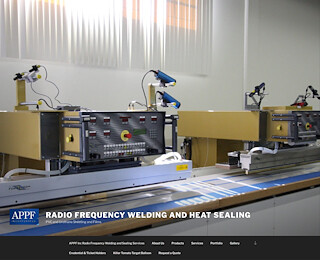 APPF Inc. is your reputable provider of premiums contract industrial sewing services. For several decades, we have been recognized to manufacture superior quality products and modular bed systems using our quilting and programmable sewing machinery. We also manufacture industrial webbing straps, inflatable items, fabric panels for military buildings, and many more. Our products are strong, durable, and guaranteed to serve your needs for many years to come.
What Is An Industrial Sewing Machine Used For?
Industrial sewing machines are used for manufacturing apparels, clothing, leather, bags, shoes, sofa, car seats, and many more. These machines provide the needed speed and durability for various industrial sewing operations. Industrial sewing machines can operate at a maximum speed of about 8,500 revolutions per minute. This is higher than a sports car's engine.
What Materials Do You Use for Your Industrial Sewing?
At APPF Inc., our aim is to continue providing quality products and services for our esteemed customers. We work with various materials ranging from Nylon to Cotton, Polyester, Webbing, Triple-laminated PVC, and Urethane. Above all, we only use quality and durable materials that meet industry standards. We are always ready to tailor our services to your specification.
What Is Quilting?
Quilting can be referred to as the process of sewing more than two fabric layers together to create a thicker padded material. Quilting is done with three layers:
The quilt top or top fabric.
Batting or insulating material.
Backing material.
What Is The Purpose Of Quilting?
The purpose of quilting is to make small even stitches that will secure the three layers of the quilt. This will ensure that the quilt does not shift over time. Quilting also provides a decorative element to the finished project. 
Can Industrial Sewing Machine Be Used To Customize?
Industrial sewing machines are very wonderful. These machines can complete specific tasks incredibly fast while producing neat results. The machines also provide further customization and branding opportunities.
What Stitching Techniques Do You Use?
APPF Inc. is dedicated to providing excellent industrials sewing services and quilting. We work with a qualified team of experienced, skilled, and competent staff. Our trained staff can sew and quilt products using various stitching techniques, including straight, zigzag, and chain stitch. Everything will be done based on your specification.
Do You Apply Unique Feature Options?
At APPF Inc., we love what we do. Our trained staff can apply various unique feature options including edging, grommets, buckles, snaps, and many more. We also provide hot stamping and screen printing services. Everything is available on request. You can contact our team to get an accurate cost estimate for your sewing, quilting, stitching, and other personalized services.
Contact Us Today!
For the very best of industrial sewing, contact us today at APPF Inc. We provide detailed, affordable, and highly professional services. Our qualified and experienced staff can sew and quilt products using various professional stitch techniques. Our dedicated team will be available to speak with you and discuss your needs. Everything will be done to your specification. We guarantee you excellent industrial sewing services.
Industrial Sewing Services
American Pacific Plastic Fabricators Inc
714-891-3191
7311 Doig Dr, Garden Grove, CA 92841
View Larger Map